Home
---
Engineering
Services
---
PIC Products
ABS Products
Surplus
---
Ordering
Distributors
Downloads
Links
---
Policies
Contact Us
Custom ABS Plastic Products
Two DHMicro custom designs exclusively available here: an ABS underdash electronic enclosure and a windowed ABS bezel for 20 x 4 LCD text displays.

Both have been designed by us for use on our own commercial products as well as products for several of our clients. Since both have proved to be so usefull and unique, we have decided to offer them to the general public as well.

Use the Add to Cart buttons below to order. When finished, use the View Cart button at the upper right of this page to make changes and proceed to checkout. If you need large quantities of either of these products contact us at: sales@dhmicro.com for quantity pricing and delivery options.


---
ABS Under-Dash Electronic Enclosure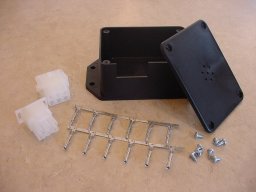 This is a truly handy enclosure that we originally designed for underdash automotive applications, but would be equally usefull indoors mounted under a counter or cabinet. The box itself has a rectangular cutout in the back to securely mount a 6 pin connector for external electrical connections and has a pair of flanges with mounting holes to secure the box in place. The box lid has vent holes for a possible buzzer or speaker. We package the box and and lid with 8 screws (4 for the lid and 4 for mounting a PCB), 6 pin male & female connector housings (Tyco PN 1-480705-0 & 1-480704-0), 6 female crimp pins (Tyco PN 350537-1), and 6 male crimp pins (Tyco PN 350538-1).


| | | |
| --- | --- | --- |
| | $7.50 | BOX-KIT, ABS underdash electronic enclosure kit including box, lid, 8 screws, male & female 6 pin housings, 6 male pins, and 6 female pins. |
For our large quantity OEM customers: we have the capabilities to cut slots or holes in the face of these boxes for customer LEDs, switches, or buttons. We also have the ability to manufacture silk-screened Lexan® face plates featuring customer artwork or logos printed on them. We can also build compatible wiring harnesses and stock circuit boards required to transform this box into a complete customer product. See our Contract Assembly page for a summary of our electronic production capabilities then contact our Sales Dept. at: sales@dhmicro.com or our Engineering Dept. at: engineering@dhmicro.com to discuss your project requirements.


---
Bezel For 4x20 Text-Based LCD Display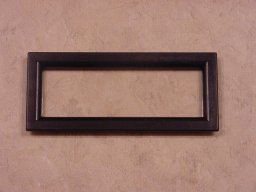 If you have ever looked for a bezel for an LCD 4x20 text display you have probably discovered the same thing we did--it does not exist (until now). This bezel is injection molded ABS to which we adhere a clear 20mil polycarbonate lense to protect the LCD face. This part really dresses up your LCD projects by covering the cut edge of a face plate and hiding the metal frame of the LCD itself.


| | | |
| --- | --- | --- |
| | $3.50 | BEZEL-4X20, ABS bezel for a 4x20 text LCD display with 20mil clear polycarbonate lense. |
This bezel can also significantly reduce the development cost of display and control panels--especially when compared with the costs associated with producing a custom injection-molded plastic face plate. A 50mil aluminum plate can be used for the face plate itself onto which we apply a custom silk-screen printed Lexan® overlay. Then we attach the above bezel as a finishing touch. A further cost reduction can be realized by using standard length tactile push buttons behind the Lexan® face instead of a custom membrane keypad. The result: an inexpensive yet highly professional looking face which can be ready to take to market in weeks instead of months.
For more details about this type of panel construction, contact or our Engineering Dept. at: engineering@dhmicro.com. We can also provide large quantities of this bezel for your OEM applications. For pricing and delivery options contact our Sales Dept. at: sales@dhmicro.com to discuss your requirements.


---